18-Jun-2020
BORDA'S ROPE – Nearer the Shores of Kothal LP 19,00 EUR
DEOGEN – The Endless Black Shadows of Abyss" LP 19,00 EUR
FORGOTTEN SPELL – The Necromancer" LP 19,00 EUR
NIDERNES – Darkness Cenotaph LP 19,00 EUR
XYSMA – Xysma 1989-1993 2-CD 13,00 EUR
VOMITURITION – A Leftover CD 12,00 EUR
VIOGRESSION – Expound And Exhort 2-CD 13,00 EUR
RESURRECTION – Embalmed Existence 2-CD 13,00 EUR
PESTILENCE – Spheres 2-CD 13,00 EUR
PESTILENCE – Testimony of the Ancients 2-CD 13,00 EUR
PESTILENCE – Consuming Impulse 2-CD 13,00 EUR
FATAL – Soul Burning Still CD 12,00 EUR
VOMITURITION – A Leftover LP 19,00 EUR
SOLSTAFIR – Köld 2-LP 26,00 EUR
SHAPE OF DESPAIR – Shades Of… LP 19,00 EUR
SHAPE OF DESPAIR – Angels of Distress LP 19,00 EUR
RESURRECTION – Embalmed Existence LP 19,00 EUR
RAZOR – Executioner's Song LP 19,00 EUR
RAZOR – Evil Invaders LP 19,00 EUR
RAZOR – Malicious Intent LP 19,00 EUR
PESTILENCE – Hadeon LP 19,00 EUR
PESTILENCE – Spheres LP 19,00 EUR
PESTILENCE – Testimony of the Ancients LP 19,00 EUR
PESTILENCE – Malleus Maleficarum LP 19,00 EUR
PESTILENCE – Consuming Impulse LP 19,00 EUR
EREB ALTOR – Järtecken LP 19,00 EUR
EMPEROR – As The Shadows Rise picture-12" 19,00 EUR
ABSU – Barathrum: V.I.T.R.I.O.L. – Gatefold LP (Red Galaxy vinyl) 19,00 EUR
ABSU – The Sun of Tiphareth – Gatefold LP (splatter vinyl) 19,00 EUR
ABSU – The Third Storm of Cythraul – Gatefold LP (blue galaxy vinyl) 19,00 EUR
IMMORTAL – Batlles in the North – Gatefold LP (white vinyl) 19,00 EUR
IMMORTAL – Damned In Black – Gatefold LP (Red & Gold Splatter Vinyl) 19,00 EUR
IMPALED NAZARENE – Tol Cormpt Norz Norz Norz – Gatefold LP (galaxy vinyl) 19,00 EUR
MARDUK – Nightwing – Gatefold LP (galaxy vinyl) 19,00 EUR
MUTIILATION – Remains of a Ruined, Dead, Cursed Soul – Gatefold LP (black galaxy) 21,00 EUR
NECROMANTIA – Crossing The Fiery Path – LP + booklet (swirl vinyl) 20,00 EUR
NECROMANTIA – Scarlet Evil Witching Black – LP + booklet (swirl vinyl) 20,00 EUR
PAN-THY-MONIUM – Dawn Of Dreams – LP (swirl vinyl) 19,00 EUR
PAN-THY-MONIUM – Khaooohs – LP (swirl vinyl) 19,00 EUR
BÜTCHER – 666 Goats Carry My Chariot CD 12,00 EUR
DENIAL OF GOD – The Hallow Mass CD 12,00 EUR
DISASTROUS MURMUR – Rhapsodies in Red CD 12,00 EUR
GLACIATION – Sur les Falaises de Marbre CD Digipack 14,00 EUR
IMMORTAL – Diabolical fullmoon mysticism CD 12,00 EUR
MUTIILATION – Vampires of Black Imperial Blood CD Digipack 14,00 EUR
PAN-THY-MONIUM – Dawn Of Dreams CD 13,00 EUR
PAN-THY-MONIUM – Khaooohs CD 13,00 EUR
14-May-2020
SACRAMENTUM – Far Away From the Sun – LP + booklet 25,90 EUR
SACRAMENTUM – Far Away From the Sun – CD 14,90 EUR
UNANIMATED – Ancient God of Evil – LP +booklet 25,90 EUR
UNANIMATED – Ancient God of Evil – CD  15,90 EUR
UNANIMATED – In the Light of Darkness – LP +booklet 25,90 EUR
UNANIMATED – In the Light of Darkness – CD  15,90 EUR
MARDUK – Rom  5:12 – Double LP + poster + booklet 25,90 EUR
MARDUK – Wormwood – LP + poster 29,90 EUR
---
24-April-2020
SANGUINE RELIC – The Essence of Eternity's Despair – LP (moss green vinyl)
SANGUINE RELIC / IMMATURA MORTE (USA/Mex) – Split – LP
UNHOLY TRINITY (USA) – Omnimalevolence – LP
KOMMODUS (Aus) – An Imperial Sun Rises demo#4 – LP
KOMMODUS / GRÓGALDR (Aus/Usa) – Howling Sanguine Triumph – LP
GRÓGALDR (USA) – Illness Unto the Womb of Spirit – LP
GRÓGALDR (Usa) – Disinterred Graves of Saints – Cassette
BLACK MASS OF ABSU (USA) – Black Mass of Absu – Cassette
GHREMDRAKK (Bel) – Sterrenpracht – DLP
---
21-April-2020
HORNA – Envaatnags Eflos Solf Esgantaavne – Gatefold DLP 26,00 EUR
THRONE OF KATARSIS – The Three Transcendental Keys LP 17,00 EUR
SARGEIST – Let The Devil In – LP  18,00 EUR
SARGEIST – Disciple of the Heinous Path – LP 18,00 EUR
SARGEIST – Death Veneration – LP 16,00 EUR
THY DARKENED SHADE / CHAOS INVOCATION – Split- Gatefold EP 7,00 EUR
GRAND BELIAL'S KEY – A Witness to the Regicide – Digipak CD 13,00 EUR
GRAND BELIAL'S KEY – Goat of a thousand young / Triumph of the Hordes – Digipak CD 13,00 EUR
GRAND BELIAL'S KEY – Mocking the Philanthropist – CD 13,00 EUR
HORNA / PURE – CD 13,00 EUR
SARGEIST – Unbound – CD 13,00 EUR
SARGEIST – Feeding The Crawling Shadows – CD 13,00 EUR
SARGEIST – Death Veneration – MCD 10,00 EUR
ADVERSO – Descent CS demo 8,00 EUR
NITERIS – Our Death, His Monument CD demo 8,00 EUR
WILSUMNES – Onwards to the Great Darkness CS demo 8,00 EUR
---
20-April-2020
GOATMOON – Death Before Dishonour LP 19,00 EUR
GOATMOON – Voitto Tai Valhalla" LP 19,00 EUR
SATANIC WARMASTER – Fimbulwinter LP 19,00 EUR
SATANIC WARMASTER – Nachzehrer GATEFOLD LP 19,00 EUR
SATANIC WARMASTER – Opferblut LP 19,00 EUR
SATANIC WARMASTER – Strength & Honour Digipak CD 12,00 EUR
THE TRUE WERWOLF / DRUADAN FOREST – split LP 18,00 EUR
THE TRUE WERWOLF – Devil Crisis LP 19,00 EUR
NIGHT'S THRESHOLD – Boundless Evil LP 18,00 EUR
SULPHURIC NIGHT – Forever Cursed LP (White vinyl) 18,00 EUR
SULPHURIC NIGHT – Arcane Monoliths of Triumphant Death DLP 24,00 EUR
WODDREA MYLENSTEDE (UK) – Créda Beaducwealm LP 18,00 EUR
NIGHT'S THRESHOLD – Deep Within the Night CD 12,00 EUR
SULPHURIC NIGHT – Forever Cursed CD (ltd. to 100 copies) 14,00 EUR
---
21-Feb-2020
SANGUINE RELIC  ‎– The Essence of Eternity's – A5 Digipak CD 16,00 EUR
XZÆLTHU – s/t – Digipak CD 14,00 EUR
CEREMONIAL CRYPT DESECRATION ‎- Lupine Sacrilege Adorned In Rotting Flesh – CS 13,00 EUR
---
17-Feb-2020
CAPILLA ARDIENTE/EVANGELIST – Split LP 13.90 EUR
CIANIDE / NEKROFILTH – Split EP 8.90 EUR
DARKCREED  – Is Dead And Always Has Been Dead LP 11.90  EUR
EGYPT – Angelic Darkness EP 7.90  EUR
FUNEBRARUM – Beneath The Columns Of Abandoned Gods LP 17.90  EUR
FUNEBRARUM – Dormant Hallucination  EP 8.90 EUR
HOODED MENACE – Gloom Immemorial Box CD 13.90  EUR
HOODED MENACE / ALGOMA – Split LP 13.90  EUR
HOODED MENACE / LOSS – A View From The Rope Split LP 13.90  EUR
NUNSLAUGHTER / UNBURIED  – Split PIC 7″ 8.90  EUR
ORDO INFERUS – Invictus Et Aeternus LP 11.90  EUR
V/A – Underground Never Dies LP 16,90 EUR
---
18-Jan-2020
SCEPTRE OF THE FADING DAWN ‎– Dark Secrets Of The Ancient – Cassette (Atrocity Altar) 15,00 EUR
MORAŠ – Gaze Of The Void – LP (Archaic Memories) 29,00 EUR
VIRULENT SPECTER – Upon A Dead And Derelict Throne – LP (Black Gangrene Productions) 16,00 EUR
PSYCHIC CIRCLE – Sacrifice – LP (Black Gangrene Productions) 17,00 EUR
DRY INSIDES – Dry Insides – EP (7″, Knife Vision) 8,00 EUR
FEVER NEST – Black Carrion Fowl – LP (Knife Vision) 21,00 EUR
SANDWORM – Lordsil – LP (Knife Vision) 21,00 EUR
HULDER – De Oproeping van Middeleeuwse Duisternis – LP (Iron Bonehead Productions) 23,00 EUR
CULT OF FIRE – Triumvirát – Gatefold LP + Poster (Iron Bonehead Productions) 17, 00 EUR
CULT OF FIRE – Ascetic Meditation of Death – Gatefold LP + Booklet & Poster (Iron Bonehead Productions) 17,00 EUR
OSTOTS – Hil Argi – LP (Altare Productions) 21,00 EUR
OWL'S BLOOD – Cold Night Of Meditation – LP (Altare Productions, Skjold) 21,00 EUR
ORGY OF CARRION – Blood Washed Away The Grave Purity – CD (DinA5) 19,00 EUR
SAX – Moravské Nářez – LP (Monster Nation) 17,00 EUR
SORTS / CALES – Onset Of Twilight – A Tribute To Bathory – EP (7") (Monster Nation) 6,00 EUR
DARKTHRONE – Old Star – LP 25,00 EUR (Peaceville)
---
31-Dec-2019
ENTRANCEMENT – Demo II / Tape
VRORSAATH – Moonlights Wrath / Tape (Perverse Homage version)
BASTARD OF MAJESTY SIN – s/t / Tape (Perverse Homage re-release)
BURNING APPARITION OF THE MASTER / Tape
DEMONIC HORDES – Night For The Invocation / Tape
NÄCHTLICH – Nächtlich LP 24,00 EUR
ALPTRAUM / GRAUSAMKEIT ‎– Evakuierung Der Seele / Destroying Saarbrücken Session I EP 11,00 EUR
OSCULUM INFAME – Axis Of Blood 2xLP 25,00
OBTAINED ENSLAVEMENT – Witchcraft LP 24,00 EUR
KATATONIA – Jhva Elohim Meth LP (blue) 22,00 EUR
DIABOLICAL MASQUERADE – Ravendusk In My Heart LP (red) 24,00 EUR
MAYHEM – Daemon LP 21,00 EUR
FATA MORGANA – Fata Morgana LP 17,00 EUR
MORTIIS – Blood And Thunder LP 16,00 EUR
MORTIIS – The Song Of A Long Forgotten Ghost LP 16,00 EUR
---
26-Aug-2019
CRYPTS OF WALLACHIA – Drifting In The Devil's Maze Cassette
FACELESS ENTITY – In Via Ad Nusquam LP
NAHTRUNAR – Symbolismus 2xLP
NAHTRUNAR – Mysterium Tremendum LP
TURIA – Dor LP
TURIA – Dede Kondre LP
OBSIDIAN GRAVE / UNHOLY VAMPYRIC SLAUGHTER SECT – Lupine Musings of a Dying Faith – 10″MLP Color: Ultra Clear
OBSIDIAN DAWN ‎– Echoes Of A New Dawn MLP
TORRID DEATH'S FIRE ‎– Nocturnal Erotic Symbolism LP
---
19-May-2019
DARK HERESY – Abstract Principles Taken To Their Logical Extremes CD
ORANSSI PAZUZU – Valonielu CD
URARV – Argentum MCD
LUBRICANT – Swallow This… CD
REVEREND BIZARRE – Harbinger Of Metal DLP Black vinyl, gatefold jacket
DEMILICH – Nespithe LP Black vinyl
SWALLOW THE SUN – Hope DLP Limited Galaxy Edition
SWALLOW THE SUN – Plague Of Butterflies DLP Limited Galaxy Edition
---
15-May-2019
DISSECTION The Past is Alive LP
FATAL Soul Burning Still LP
FUNEBRE
Children of the Scorn LP
NECROPHOBIC
Nocturnal Silence LP
NECROPHOBIC
Darkside LP
NECROPHOBIC
The Call MLP
REPUGNANT
Hecatomb MLP
ABHORER Zygotical Sabbatory digi-CD
BORKNAGAR Borknagar CD
DEAD HEAD The Feast/The Festering  2-CD
DISMEMBER Like an Everflowing Stream CD
DISSECTION The Past is Alive digi-CD
FATAL Soul Burning Still CD
HADES Again Shall Be… digi-CD
HADES Alone Walkying digi-MCD
HADES Dawn of the Dying Sun digi-CD
NECROPHOBIC Nocturnal Silence digi-CD
PARAMAECIUM Exhumed of the Earth CD
---
08-May-2019
MESARTHIM – Isolate LP (Atmospheric black metal)
ISON – Cosmic drone LP (Atmospheric black metal)
ISON – Andromeda skyline LP (Atmospheric black metal)
SOJOURNER – The Shadowed Road DLP (Epic black metal)
SOJOURNER – Empires of Ash DLP (Epic black metal)
UNREQVITED – Stars wept to the Sea LP (Atmospheric/Depressive Post-Black Metal)
DOWNFALL OF NUR – Umbras de Barbagia DLP (Pagan-folk black metal)
SAOR – Forgotten Paths LP (Pagan-folk black metal)
---
06-May-2019
LITANIE – In Nomine Humana, Tenebris CD digipack
ELIXIR – Les tours du temps CD digipack
WITCHES MOON – A Storm of Golden Mare and Black Cauldron MCD digipack
FALGAR – De sangre y sol CD digipack
WERESS – The dungeon on the Moon MCD digipack
LIKSMINKE – Det onde tjernet CD digipack
WINTAAR – Frostland CD digipack
---
04-May-2019
IMMORTAL – Diabolical Fullmoon Mysticism – Ltd Gatefold LP  19,90 €
IMMORTAL – At The Heart Of Winter – Blue Galaxy Vinyl  19,90 €
IMMORTAL – Damned In Black – Ltd Gatefold LP  19,90 €
MARDUK – Those Of the Unlight – Gatefold LP   19,90 €

MARDUK –  Heaven Shall Burn When We Are Gathered – Gatefold LP    19,90 €
REGIMENT – On Les Aura!  – Ltd LP    19,90 €
SAMAEL – Worship Him (25 years of Osmose Productions)    Ltd LP  19,90 €

SHINING  – Halmstad  –  Ltd Gatefold LP   19,90 €
ENSLAVED – Frost – Gatefold LP  21,00 €

BEASTCRAFT
– Crowning The Tyrant MLP
18,00 €
BEASTCRAFT
– Pentagram Sacrifice MLP
18,00 €
BEASTCRAFT
– Satanic Supremacy MLP
18,00 €
THE BLACK – The Priest of Satan – LP  19,90 €

THE BLACK
– The Priest of Satan – CD  
12,00 €
SAMAEL   
Worship Him (25 years of Osmose Productions)    Ltd CD
14,00 €
MASTER'S HAMMER
– Ritual – CD  
12,00 €
GLACIATION
– Sur les Falaises de Marbre – CD Digipack   
12,00 €
BURZUM – Hvis Lyset Tar Oss LP 24,00 €
BURZUM – Filosofem Double LP 25,00 €
CLANDESTINE BLAZE – Tranquility Of Death LP 17,00 €
CONVULSE – World Without God – Extended Edition DLP 29,90 €
EMPEROR – In the Nightside Ecplipse LP 30,00 €
EMPEROR – Anthems To The Welkin At Dusk LP 30,00 €
KAUAN – Kuu.. LP 25,95 €
KAUAN – Pirut LP 25,95 €
KAUAN – Muistumia CD 16,00 €
KAUAN – Sorni Nai CD 16,00 €
NECROPOLE – Solarite CD 13,00 €
NECROPOLE – Solarite LP 18,00 €
RAPID – Ancient Force EP 8,00 €
SWALLOW THE SUN – New Moon DLP 28,00 €
SWALLOW THE SUN – Emerald Forest And The Blackbird DLP 32,00 €
---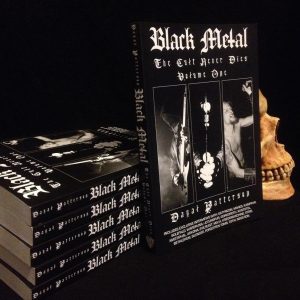 BLACK METAL: The Cult Never Dies Vol .1 (by Dayal Patterson)
300 pages and over 150 photos, many previously unpublished. Features exclusive and definitive interviews with:
Satyricon, Manes, Kampfar, Solefald, Wardruna/Jotunspur/Gorgoroth, Xantotol, Arkona, Mastiphal, Evilfeast, Mgła/Kriegsmaschine, Strid, Silencer, Bethlehem, Forgotten Tomb and Total Negation. 
Includes a chapter on the art of Theodor Kittelsen
Price: 17,99 €
---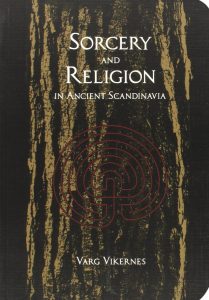 SORCERY and RELIGION in Ancient Scandinavia (by Varg Vikernes)
Sorcery and Religion in Ancient Scandinavia is a book from Varg Vikernes, one of the most controversial musicians of all time and the mastermind behind one of the most acclaimed Black Metal bands in the world Burzum. Convicted in 1994 of the murder of band-mate Euronymous, Vikernes has since spent 15yrs studying the traditions and beliefs of the Ancient Scandinavians and their influence on modern Europeans. That research has culminated in a book in which the outspoken and often divisive author challenges many of the widely held views of contemporary culture and its history. The passionate and in-depth text provides an absorbing insight into the thoughts of this most notorious of musicians. Sorcery and Religion in Ancient Scandinavia makes fascinating reading and will be of interest not only to Black Metal and Burzum fans, but also to those with an interest in Norse mythology or European history and social commentators
Price: 15,00 €
---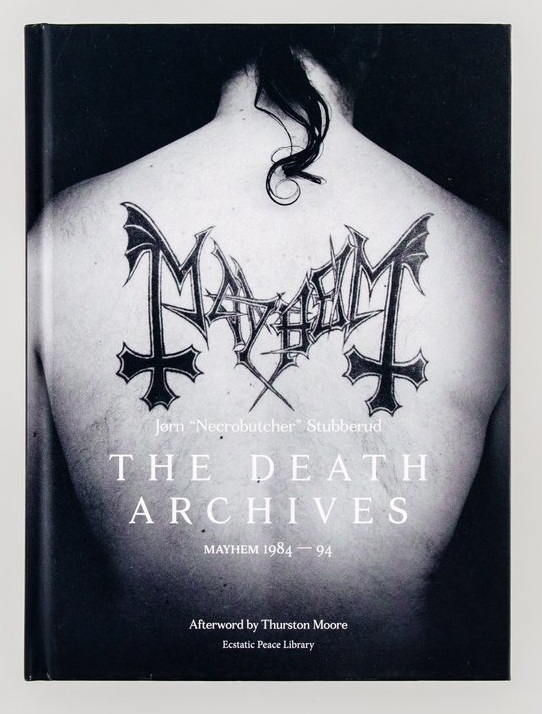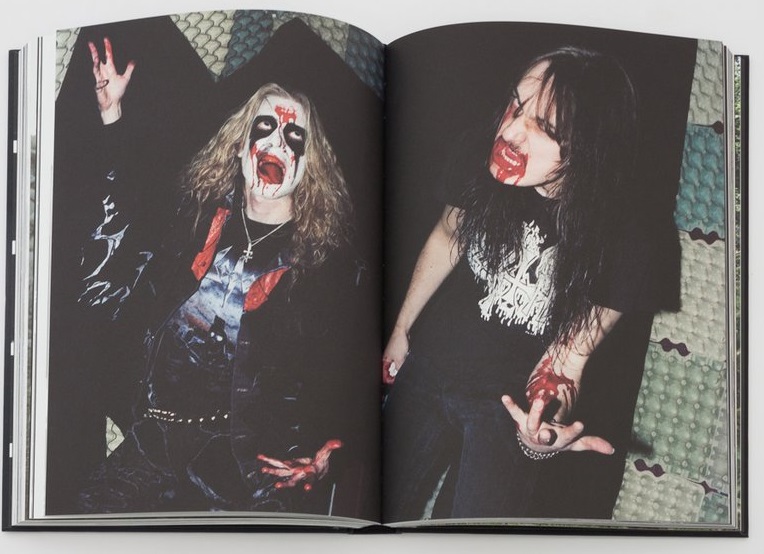 The Death Archives: Mayhem 1984-94 (hardcover) by Jorn "Necrobutcher" Stubberud
In this unique documentary book, Stubberud shares the first groundbreaking years of Mayhem's existence including their first photo-sessions in full corpse regalia; recording sessions, and exclusive stills from live video footage of their earliest gigs. In Necrobutcher's Death Archives he shares rarely seen photos of the band before death of singer Pelle "Dead" Ohlin and murder of guitarist Øystein "Euronymous" Aarseth.
Once Mayhem established their unique sound, The Norwegian Black Metal scene grew ferociously and globally finding common ground in violent imagery, horror iconography, fierce anti-Christian views, which ultimately led to over fifty church fires, among them the iconic Fantoft Stavkirke in Bergen. The violent nature of the music also led to the brutal murder of Øystein "Euronymous" Aarseth in 1993 by Varg "Count Grishnak" Vikernes internationally known as Burzum. Today, Norwegian Black Metal is one of the most distinct and controversial sub-cultures in the music world, its popularity spanning globally from China to Mexico. The book is not only a documentation of a band- it is also a story about Norway, and a unique Norwegian subculture where a deep fascination for authentic Nordic culture and nature is deeply immersed.
The Death Archives: Mayhem 1984-94 was listed as one of Rough Trade's top books of 2016.
Price: 69,99 €